Experts in work at height or in confined spaces
Horizon Vertical is a company made up of skilled individuals, technicians, and recognized mountaineering and industry experts who are committed to meeting the needs and demands of our customers.
Inspection to training, through repair and maintenance, we offer a comprehensive range of professional services for turnkey projects to achieve your operations in height and in confined spaces.
Our innovative technology and growing in suspension rope allows Vertical Horizon perform work of greater difficulty or impractical to look totally safe and controlled.
Compliant with UIAA and CSA standards and respecting those established by the CSST and the CCQ
Team composed of instructors from the Quebec Federation of Mountain Climbing;
Member of the Society of Professional Rope Acess Technicians (SPRAT);
Level III certified technicians
RBQ License # 8270-2174-01
Reseller Petzl and Skedco
THE IMPOSSIBLE WE SHALL …
Our Mission
Vertical Horizon's mission is to reach difficult places to perform various maintenance engineering and industrial maintenance using a specific technical innovative, safe, fast, efficient and economical in terms of cost, time and space: work in progress on support and ropes on tall structures or enclosed space.
A WINNING PARTNERSHIP FOR OUR CUSTOMERS
Custom work
We offer an interesting complement to scaffolding and crane equipment as well as to engineering and general contractors, primarily as the site safety manager.
Efficiency and speed of execution: a gain in cost, time and space
Quick response to your needs: equipment easy to move to the place of execution;
Simplicity and speed of installation: light and malleable equipment occupying little space;
Efficient execution of works: large area coverage and maximum flexibility of action;
Absence or minimization of production downtime for all site activities.
Security and precision of intervention
Absence of imprecise and massive lifting devices that can cause bodily harm;
Elimination of the risk of breakage of the surrounding equipment by the precision of the working method;
High level of training and expertise of the team ensuring a perfect control of the risks in the execution of the various works.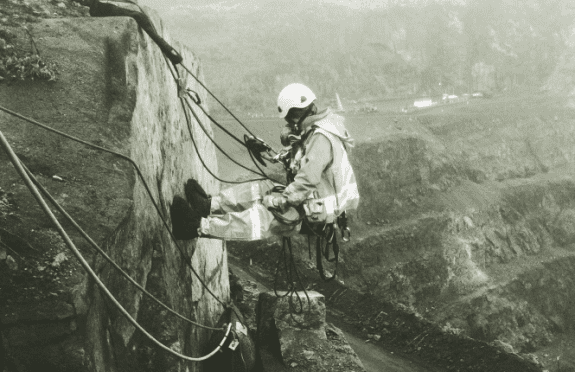 OUR STORY
Founded in 1992 by Mr. Joel Tremblay, a mountaineering and climbing enthusiast and current president and CEO, Horizon Vertical has distinguished itself in Quebec by its ability to innovate and diversify its services in the field of access work. difficult in height and in confined spaces, all in a context where security prevails.
During his years of involvement in the field of training in climbing, rescue and industrial mountaineering, Mr. Joël Tremblay has acquired a solid expertise in the technique of suspension and progression on rope.
It was during this long period of perfection that he adapted this unique, complex and advantageous technique to the industrial market. He created Horizon Vertical to meet the needs of industrial customers and engineering contractors.
Always on the cutting edge of innovation, Horizon Vertical continues to expand by investing in training, developing its services and reaching new markets.
In order to ensure high quality service to its customers, Horizon Vertical has developed a close collaboration with the CSST. The main mission of this alliance is to establish norms and standards giving the assurance that this innovative service is realized in a context of maximum security and high level of professionalism.
Our Clients
Here is a non-exhaustive list of companies that trusted us